Grooving cutter 2F 8x8x62x100
Code:
408F
Product detailed description
Double-edged grooving cutter with a tip diameter of 8 mm and a total length of 100 mm. Designed for wood.
Suitable for woodworking, profiling, edging, grooving, hole cutting and countersinking.
Suitable for MDF, OSB, plywood, chipboard, solid wood
Made of: carbide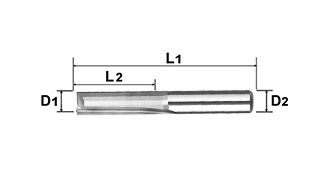 Parameters:
Shank diameter D2: 8.0mm
Tip diameter D1: 8.0mm
Cutting part L2: 62.0mm
Total length L1: 100.0mm
Number of Brits : 2
AI
Andrej Irša
Spokojnosť. Osvedčený typ frézy.